Young people, learning & storytelling. Bascially, many years of storytelling research in schools later… Check it out here.
Book summary
This book explores the lives of young people through the lens of storytelling. Using extensive qualitative and empirical data from young people's conversations following storytelling performances in secondary schools in the UK, the author considers the benefits of stories and storytelling for learning and the subsequent emotional, behavioural and social connections to story and other genres of narrative.
Storytelling has both global and transnational relevance in education, as it allows individuals to compare their experiences to others. Young people learn through discussion that their opinions matter, that they are both similar to and different from their peers. This in turn can facilitate the development of critical thinking skills as well as encouraging social learning, co-operation and cohesion. Drawing upon folklore and literary studies as well as sociology, philosophy, youth studies and theatre, this volume explores how storytelling can shape the lives of young people through storytelling projects. This reflective and creative volume will appeal to students and scholars of storytelling, youth studies and folklore.
Reviews
Some reviews below:
This book is an exceptional study of how storytelling cannot only help us understand children's experiences under difficult conditions, but also how children use storytelling to cope with problems facing them in their daily lives. Dr Parfitt has a firm grasp of the art of oral storytelling and interdisciplinary methods, and develops keen insights into the emotional behaviour of children as they tell and listen to stories. Her book is a significant contribution to the fields of childhood studies and folklore and will interest anyone concerned with improving relations with children in schools and at home.

(Jack Zipes, Professor Emeritus, University of Minnesota, USA)

"Beautifully written, with imaginative metaphors from the stories themselves, she offers really accessible theory and vivid compelling accounts infused with the real voices and personalities of the young people themselves. This is not a manual, but something more precious, a guide to reflective practice to inspire teachers and storytellers practically in the classroom."

(Nicola Grove, Founder of OpenStoryTellers, UK)
Reflections in 2023
It seems surreal now, that I finally got a book accepted and went through the whole publication process with Macmillan. I'm proud of myself. It feels like another person wrote this now. Four years ago the final version left my desk the same year as my wedding! It had taken me four years of research and writing and working parttime to obtain my PhD as a mature student. The book feels well earned for that reason. I faced emotionally draining times living in student accomodation to provide well-being support to students.
During that process I learnt a lot about myself. And the few individuals, you know who you are, I really helped, that appreciated an ear to talk to and talking through their options to get the outcome they wanted for their educational journey made it worthwhile. Thought, I'm sure the fab residental team would have had them anyway. For if a student reached out we were there. The being woken up to deal with emergencies and noise disturbances I would rather forget.
The process of hard, exhausting work that got me on that stage collecting my PhD is an experience I constantly remind myself of whenever I doubt myself. It has eased the doubts of my educational ability, past scarring from previous university experiences that 'I was not good enough', that I see now is a narrative I had heard from others and constantly reinforced in my own head. I was good enough then, and I am good enough now, always striving to be better. Not just in the way I write, but as a human being.
And I would not be the 'me' I am today without the people that challenged and support me along the way. Thank you from the bottom of my heart. I don't say it often enough. I'm getting emotional thinking about all the friends I miss, some no longer with us, some across the world seperated by the cost of a flight ticket. Thankfully we have the technology to stay connected. And to those who I have lost touch with … I think of you sometimes with gratefulness for the periods of life we shared along the way.
My writing
If you are looking for another book to read, this time a fictional tale about sisterhood … I have also published A Friendship of Thistles.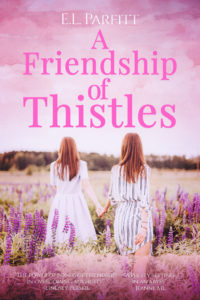 Or you can contact me for proofreading.