A poem inspired by a conversation with Dorota and

Stéphane

, with a nod to Debra Basset's research on digital grieving.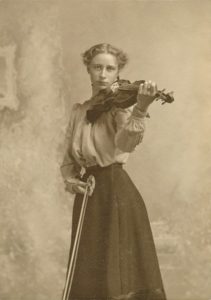 The violin, in itself, is not violent.
What if, says the artist to herself,
the instrument's lines and angles are a shared mental framework of hidden influences and meanings.
The bow, for instance, thrums across one's deadened consciousness,
strokes a beat across the heart and back again.
The violin is almost drawing blood in the way it shakes me awake.
A violinist can create a crisscross of cuts in the ice of a soul as easily as soothe and glide.
Its movements start soft, the space between the notes casting the magic of a first lover's kiss.
Gaining momentum, squiggles on pulped leave dance pirouettes, marionette-like shadows across the lines.
I don't know what it was like to live amongst candlelight and clicking piano keys,
when the only entertainment was string, wind or percussion.
The miracle of live experience still occurs due to the privilege of electric currency ̶ digital money.
What a crime to compare the virtual to the living!
Digital avatars beckon Beethoven, Shubert and Seuerling to foxtrot from their graves in binary revolution.
The metamorphosis has commenced, c'est-à-dire… (it's so cultured, even now, to throw in some French)…
let's close our eyes and breathe it in.
Escape one simulated world for another one.
The passion of the non-violent violinist traverses the pores of our skin, sinking into sinew and bone with pinpricks of pleasure.
The violinist does not produce a flat tinny sound from a digital device. This is real music. Live. Transcendent.
As the music reaches for its applause there is always the promise of another tune…
like the lullabies that welcomed us into this world.
watered down by kindness and love.