A Friendship of Thistles … I'm clearly not focused on self-promotion, as my newest book was published in May and I haven't posted here about it yet! I am also offering a fiction-related giveaway here. Or get your paperback/ebook copy here for the US, and here for the UK.
The story of Heather and Fran brings Edinburgh alive, during lockdown from 2019 to 2020. From a working-class perspective, Parfitt has created a memorable in-depth look at friendship and community. A Friendship of Thistles is also the story of a nation divided. Through the lives of Fran and Heather, Parfitt gives her readers the story of a country and its people undergoing stupendous change to remind us of the importance of community.
The book is about contemporary Scotland, about relationships, about the resilience of friendship, about hope and faith during adversity. A smattering of politics about Brexit and the Covid lockdown in 2020.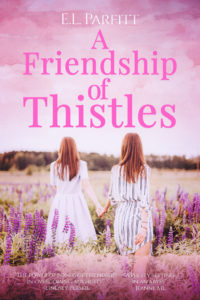 About the book A Friendship of Thistles

I updated my description, US advised:
'Where have you been?' Hector asked. He unfisted a crumpled sheet of test results.
Heather said, 'You're all bones.'
'Fran, threw me out.'
'And?' she asked.
To the following for A Friendship of Thistles:
Meet Fran and Heather who have been best friends since childhood.
Scotland, 2019. Fran's husband appears on Heather's doorstep choking on a secret.
Fran and Heather haven't talked for a year and Hector begins to shed a light on why. It is only by going back to the beginning of their friendship that they will understand what life events drove a wedge between them, and whether faith and friendship is possible to repair.
Dive into the psychological mystery of friendship and find out whether relationships can heal.
Fran is a working mum – with three kids who may survive till adulthood – and in her spare time volunteers in the local community.
Heather is a single woman, an "aunty" to Fran's kids, and "too book obsessed" for Fran's liking: in other words, she needs to get a life.
Two women. Multiple secrets. The question is: how to forgive your best friend with a heart full of thistles?
Full of deep characterization and vivid imagery, this is perfect for fans of Jodi Picoult and Margaret Atwood. Second prize winner for the Just Imagine short story competition, Scotland, with A Traveller's Daughter. Scottish author featured on BBC Radio 4, with How the Herring Became a Kipper.
Great to read with a friend, a daughter or sister.
Read with a friend! A Friendship of Thistles is THE book to read with your closest friend, or group of friends. With great discussion points for a book group. With that said, it's also for you if you've never had a friend nor sustained a thirty-year friendship, or fallen out with a friend and are wondering how to repair the damage done.
Recommendation
When Hector talks about politics, or when you talk about Covid-19: it is part of people's lives, and the sense of community grows gradually. We feel that the virus impacts their lives, and we are emotionally concerned and connected with them. Stocking food and cans, the pressure to obtain a grant from the government, the craving for a bit of warmth, it's very real.'
—Jeanne ML

Check out the other recommendations on Goodreads.
Seascape — short stories inspired by storytelling research
Wee stories — short stories for kids, including How the Herring Became a Kipper as featured on Radio 4!
 It's hard for independant publishers, readers use reviews to select new books and it's hard to compete with the publishing houses, and authors who can afford to pay for reviews (yes, fraud is now a big thing with reviews). So I would appreciate any genuine readers who are able to leave a review on Amazon, Goodreads, or any of the alternatives. It's the readers who should matter.